Many Nigerian students desire to study in the United States of America, and this is quite understandable. The opportunity to get world-class education and the potential improvement to quality of life is enough motivation for many a Nigerian student. However, the process can be overwhelming if you do not have a good guide and a heads up on what to expect. In the following paragraphs, you will find a comprehensive overview of the steps you need to take to fulfill your dream of studying in the United States, if you have one. Read on.
Research the Various University Options
Your bid to study in the United States should start with research of the different universities and colleges that are available. You should consider factors such as location, cost, size, academic programmes, and reputation. Additionally, it is important to research the admission requirements for each university, as they can vary significantly.
There are many prestigious universities in the United States that Nigerians may apply to for tertiary education. Historically, some universities have been more popular among well-funded Nigerian students, including those who have received scholarships or come from privileged family backgrounds. These universities include:
In addition to these prestigious US universities, there are other institutions that provide international students with more affordable tuition rates. Some of these universities are equally hot destinations for Nigerians who aspire to study in the US. Some examples include:
The above list is not intended to be exhaustive. Further research will definitely lead to finding many other excellent universities in the United States that you, as a Nigerian student, may want to consider.
As an aspiring student, you must realize that the tuition rates at these universities can still be relatively high compared to universities in Nigeria, and other costs such as housing, meals, and transportation need to be considered as you make decisions. It is, therefore, advisable to explore scholarship options if you assess yourself to stand a fighting chance. As you decide on a university, ensure that the university you choose offers, not only the academic programmes you are looking for, but the facilities that will help you achieve your academic and career goals.
Take the Required Standardized Tests
Most American universities require students to take a standardized test such as the Scholastic Assessment Test (SAT) or American College Testing (ACT), as well as an English proficiency exam like TOEFL or IELTS. Carefully check the admission requirements for each university to determine which exams are required.
Fill Your Online Application
After deciding which universities you wish to apply to, begin preparing your application. This typically involves filling out an online application, submitting transcripts, standardized test scores and other supporting documents, writing a statement of purpose and submitting letters of recommendation.
A statement of purpose or personal statement typically outlines the applicant's academic and personal background, as well as their motivations for pursuing higher education. It is an opportunity for you to demonstrate your writing skills, showcase your unique experiences, and provide insights into your goals and aspirations.
In writing a personal statement, you should aim to demonstrate your fit with the university and the programme you are applying to. You should highlight your relevant skills and experiences, explain how your academic and personal background has prepared you for further studies, and discuss your long-term goals and how the program you are applying to will help you achieve those goals.
Apply for Scholarships and Financial Aid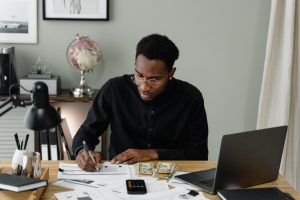 Studying in the United States can be expensive. This brings us to the importance of exploring scholarship and financial aid opportunities. Many American universities make provision for scholarships and financial aid to international students, but the available scholarship are so few compared to the applicants for them. This makes the competition for these awards incredibly fierce. It is advisable to research your options early and apply for as many scholarships and grants as you can find.
Visit the US Embassy for Your Student Visa Application.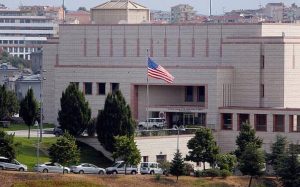 The moment you accept a university's offer of admission, you should immediately begin the application process for a student visa. The visa application process may last several weeks, so it's important to start early. You will be asked to provide proof of acceptance to a university, as well as evidence of financial support.
The address of the US Embassy in Nigeria is:
Plot 1075 Diplomatic Drive
Central District Area, Abuja
Nigeria
Prepare for Your Arrival
Before you leave Nigeria, make sure you have everything you need for your arrival in the United States. This may include arranging housing, purchasing health insurance, and obtaining any necessary vaccinations. Acquaint yourself with the culture and customs of the United States, as well as relevant laws or regulations. If you have friends or family who reside in the United States, they could facilitate your onboarding process, particularly if they too migrated to the US.
Studying in the United States can be a life-changing experience for you as a Nigerian student. However, it requires painstaking planning and preparation. The steps outlined in this guide will get you started in the right direction and make the entire process smoother for you.
Would you rather study in the United Kingdom? You can find a guide here.